Storhy optimise votre coordination.
Storhy optimise votre coordination.
Absences and vacations
Storhy helps you optimize your organization.
4 clicks et 1 blink

Two clicks for your employees, two clicks for you and absences are recorded and approved.

A large vision

View the schedules of all employees for efficiently organising the teams.

A collaborative solution

Employees can easily view their vacation leave balances.
Deux clics pour vos employés, deux clics pour vous, et les absences sont approuvées.
Visionnez les plannings de tous les collaborateurs, pour organiser efficacement les équipes.
Les employés consultent leur solde de vacances facilement.
Managing the absences with Storhy
MY SCHEDULE
Manage my schedule
View my team's schedule
---
MY ABSENCES
Make a vacation request
Manage the days not worked
Manage lengthy periods of absence
Announce the absence of a colleague
View my leave balance
MY TEAM
View my subordinate's schedule
Approve absences
Analyse the absences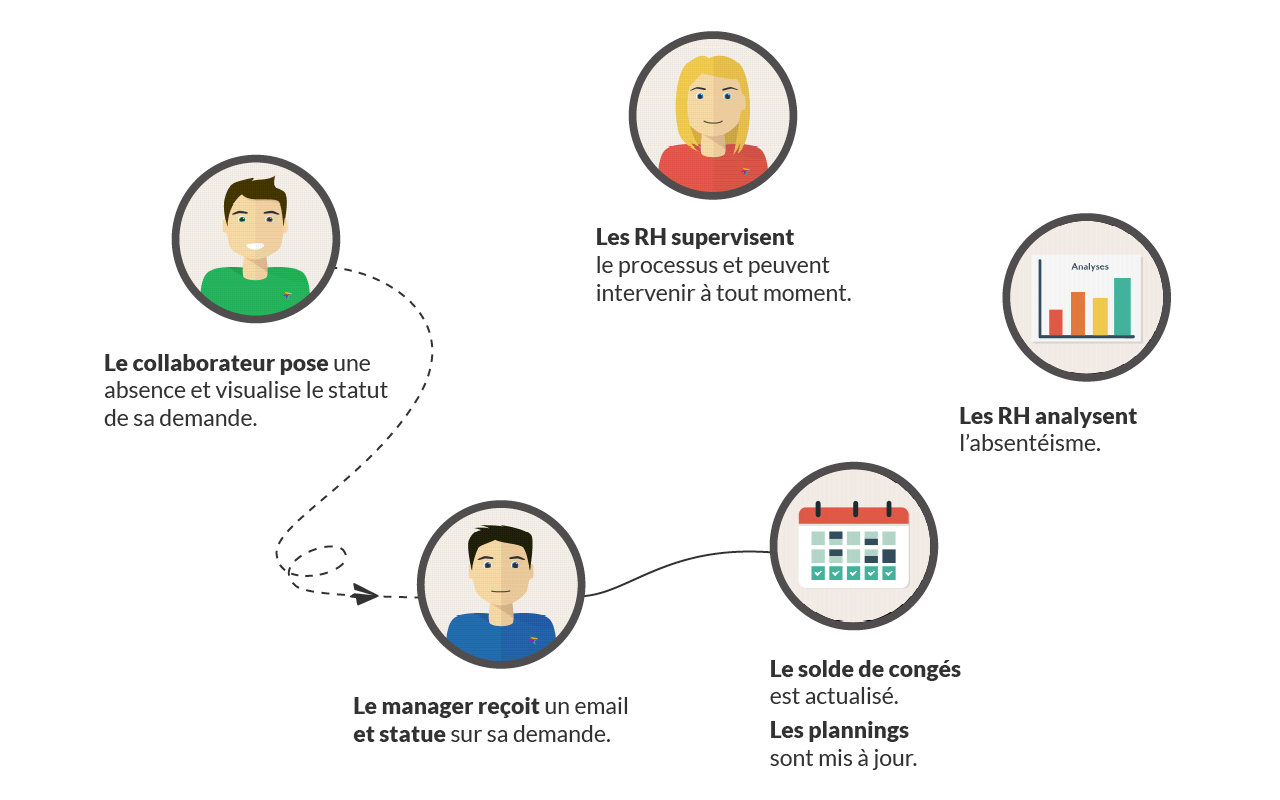 The right process
The employee makes a request for an absence synchronised with the team's work/absence schedule. This makes it easy for their manager and HR to approve the request.
Employees, managers and HR have different spaces and permissions within Storhy. Find out more about the collaborative platform
Free trial
There's a return on investiment.
Salaires horaire
Collaborateur : CHF
Dirigeant ou RH : CHF
HOURLY WAGES
Employee : CHF
Manager or HR : CHF
Before

Drafting an email request to HR to confirm vacation and leave balances

2

min
Checking the employee's balance from an Excel spreadsheet and replying to the email

2

min
Drafting an email request to HR for an absence

2

min
Handling of the absence request by HR and answering back the employee

5

min

After

Online viewing of the balance by the employee and submission of the absence request

1

min
Viewing the team's schedules and approval of the request

1

min



Time spent without Storhy:
120

min per month for the employees

210

min per month for manager or HR
That makes CHF 235 /month.
Time spent with Storhy:
30

min per month for the employee

30

min per month for manager or HR
That makes CHF 40 /month.
Cost without Storhy
1025.00CHF/month
Cost with Storhy
100.00CHF/month
Cost of the module
247.50 CHF/month
See rates
Frequently Asked Questions
---
Storhy, efficient.
Managing absences took 50% of my time. With Storhy, I gained 30% of my time back for for devoting to higher value-added activities.